The 2017 Fall Bike Rally Returns to Myrtle Beach This October
Courtney Martin | 08 Aug 2017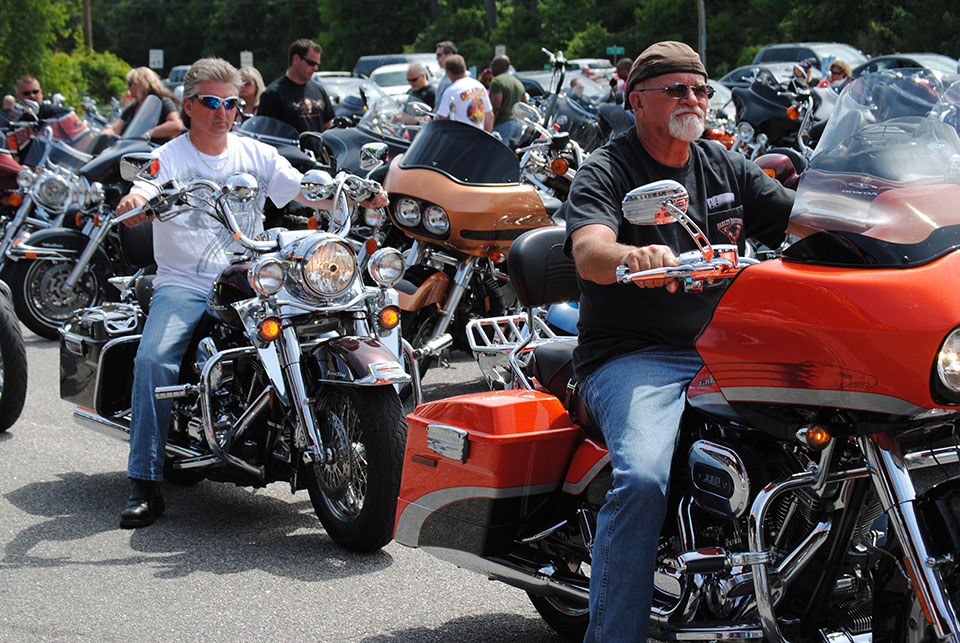 Get ready to experience the sights and sounds of another Fall Bike Rally in Myrtle Beach beginning on September 29 and lasting through October 8, 2017. This event, which draws in thousands of visitors annually from all over the country and the world, carries on decades of celebrations and traditions, and this year's event is on track to be one of the largest Fall rallies in years.
Located near the border of Murrells Inlet and Myrtle Beach, biker bar Suck Bang Blow has all of your entertainment and libation needs covered throughout the Fall rally. With a few sets on the weekend prior to get the area revved up, Suck Bang Blow will feature many acts throughout the week as well, including Tru Sol and many more. Event schedules are still being put together, but the 2017 Fall Rally will feature the thrilling experiences of previous years. Set aside Thursday, October 5th for the FREE Bike Week MB Fall Rally 2017 Cruise the Loop Poker Run, where $500 in prizes are up for grabs. Register between 10 a.m. and 11:45 a.m. at Suck Bang Blow, as the loop sets off at noon. Stops throughout the route include The Boathouse, Laps around the Myrtle Beach Speedway Racetrack, Captain Buck's Port, and Buzz's Roost. The loop ends back at Suck Bang Blow around 6 p.m. with food provided to participants, live music by Bobby Friss, Rebel Son, and many more. There will be both inside and outdoor stages for entertainment during this event. You'll also have a chance to win $1,000 cash at the LIVE Appearance by Wave 104.1, the Official Soundtrack of Bike Week MB!
Aside from the food, drinks, and bands, you will also find a variety of street vendors, offering up some of the latest and hottest trends in the biking industry. Make sure you stop by the check out all of the products being brought to you from all over the country. The fun is endless at Suck Bang Blow during the Fall Bike Rally!
Harley Davidson of Myrtle Beach will also be offering up some bike week exhibitions at their locations along the Grand Strand. The Myrtle Beach Harley Davidson will play host to motorcycle vendors. Don't miss out on the legendary rally parties that Harley Davidson is known to provide. There will also be live demos and special events taking place at the Harley Davidson Shop at the Beach. All of the day's activities begin each morning at 8 a.m.
Join thousands of other motorcycling enthusiasts as they draw together for a week of fun and comradery at the 2017 Myrtle Beach Fall Bike Rally from September 29-October 8.