5 Incredible Animal Experiences in Myrtle Beach For the Entire Family
Courtney Martin | 05 Oct 2017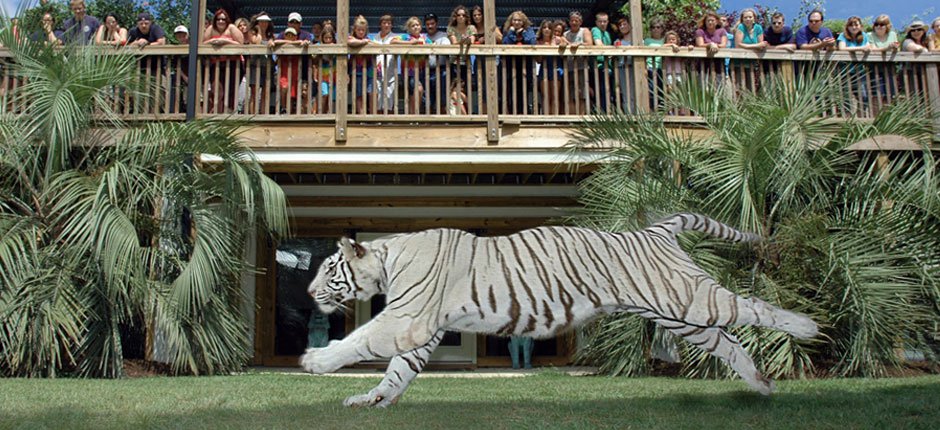 Take a walk on the wild side when you visit Myrtle Beach during your next condo rental experience. From thrilling outdoor adventures that allow you to enjoy the beautiful Myrtle Beach weather to inside excursions that take you under the sea, there are so many great ways to get up close and personal with animals when you visit the Grand Strand. Check out the opportunities below to make your dream Myrtle Beach animal encounter a reality.
Travel north on HWY 17 until you reach Alligator Adventure, the self-proclaimed Reptile Capital of the World. This reptilian sanctuary features a variety of creatures, including albino alligators, crocodiles, frogs, lizards, marmosets, lemurs, a wide variety of birds, and much more! In addition to simply viewing these animals in their natural habitats, visitors can also enjoy live shows, featuring alligator feeding, snake handling, and alligator handling and lectures. Be prepared to look some of the animal world's fiercest creatures in the eye whenever you visit the Myrtle Beach area's reptile paradise, Alligator Adventure.
Travel into another realm when you visit Ripley's Aquarium Myrtle Beach, located at Broadway at the Beach. The aquarium offers two levels of experiences, and lets visitors see everything from sea turtles to sting-rays to seahorses and more! Put on a brave face before heading into Dangerous Reef, an "underwater" tunnel that leaves you surrounded by some of the majestic predators that inhabit our oceans, including Sandtiger Sharks, Nurse Sharks, and Mooray Eels. The aquarium also offers up a variety of experiences on-site like morning yoga, sting-ray experiences, camps, live shows, and behind the scenes tours. See what life is like under the sea when you visit Ripley's Aquarium Myrtle Beach!
Travel south on HWY 17, and you'll find Brookgreen Gardens, an oasis of beautiful plants and trees, picturesque landscapes, stunning statues, and yes, plenty of wildlife! The only zoo accredited by the Association of Zoos and Aquariums on the Carolina coast, the zoo at Brookgreen Gardens is ecologically-friendly, housing animals that have either been bred and raised in captivity or have sustained a major injury. These animals include alligators, bald eagles, grey foxes, hawks, owls, red foxes, river otters, and white-tailed deer. Other, more domesticated animals you can see there include horses, chickens, mules, cows, sheep, goats, and wild turkey. See if you can spot them all when you visit during your Myrtle Beach vacation.
Located just across the street from Brookgreen Gardens, Huntington Beach State Park is the area's best option for bird-watching enthusiasts. Considered to be one of the best birding sites in the state of South Carolina, the park provides visitors with a detailed birding checklist with over 300 species that have been seen within the boundaries of the park. Bring along your binoculars and keep your eyes peeled for birds along the Causeway, the Jetty, and the Beach! If you see any of the birds found on the list, be sure to alert an employee of the park, so they can keep track of the area's ecological diversity!
For an out-of-this-world, distinct experience, visit Myrtle Beach Safari, with its 50 acres of preserved terrain. At the Myrtle Beach Safari, you'll have the opportunity to meet a Liger, Bubbles the elephant, tigers, chimpanzees, monkeys, eagles and many more of the most stunning animals on the planet. Not only will you have the chance to walk through an alluring botanical garden, but you can also get up close and interact with many of the animals on the reserve. You'll also have a photographer and videographer along for the experience to document these priceless moments. While this experience may carry a hefty price tag, you are sure to make memories that will stay with you forever. If you;re interested in an after-hours adventure, check out the Night Time Safari, which takes place around Halloween.
Choose one or all of these spectacular animal encounters during your next beach getaway. From diving with sting-rays to holding baby tigers, you and your group will enjoy every minute of these amazing animal experiences.