The Most Important Meal of Your Myrtle Beach Vacation
Chauncey Smith | 24 Oct 2013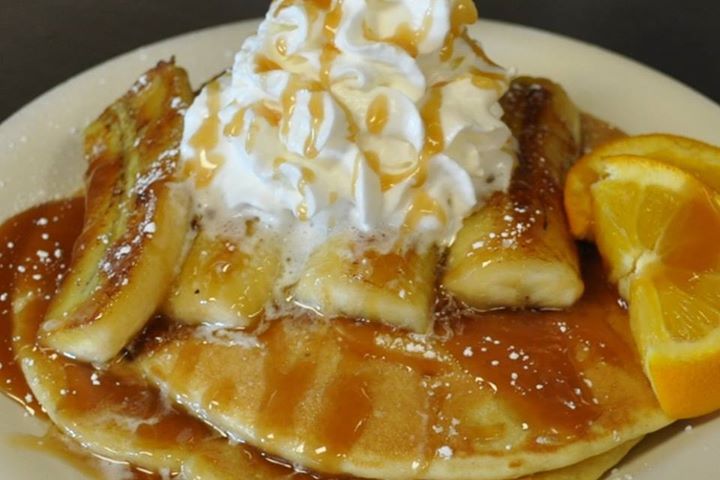 It's a well-known fact that breakfast is the most important meal of the day. In fact, a recent survey involving four participants, 75% responded that their days went better with a great meal in the morning. We're not sure how scientifically accurate those results are, but three out of four can't be wrong, right?
And hey, you're on vacation! Skip the grapefruit or granola and splurge! Here are some of the best places around Myrtle Beach to indulge in some delicious morning treats.
Dino's House of Pancakes
North Myrtle Beach visitors have raved about Dino's for years, and you can't miss their retro 50's style sign at 2120 Highway 17 South. With a 4.5 out of 5 rating on Trip Advisor, guests consistently love the tall stacks of pancakes and full plates of French toast, with unique spins on classics like their Georgia Peach pancakes or Hawaiian waffles with pineapple and coconut. Their menu stretches far beyond that, and you'll discover a huge variety of omelettes and, for those waking up a bit late, a full lunch menu with options like quarter-pound burgers, salads or their delicious Monte Cristo sandwich. For their full menu, check out their website.
Spring House Restaurant
Located conveniently right across from Barefoot Resort in the Windy Hill section of North Myrtle Beach, Spring House Restaurant is open seven days a week and ready to serve up some of the best breakfast at the beach! Diners will enjoy the great atmosphere almost as much as the delicious menu choices like huge three-egg omelettes, their signature skillets (fresh meat and veggies over crisp hashbrowns with two eggs and their scrumptious cinnamon streusel coffee cake) or, of course, lots of decadent pancake or waffle options. Those with a sweet tooth have to try Spencer's Banana Split Waffle, covered in ice cream, bananas, strawberries, hot fudge and whipped cream! Visit their website for more information.
Eggs Up Grill
Featuring several locations along the Grand Strand, including Pawleys Island, Garden City and Myrtle Beach, visitors will never be too far from Eggs Up Grill. And no matter which one you choose, you'll be guaranteed a fresh and satisfying meal to kick off a fun day at the beach or on the golf course! Founder Chris Skrodas opened the first location in Pawleys Island in 1997, and guests have been coming back ever since. While open for lunch also, breakfast is what made Eggs Up Grill the popular spot it is today. As indicated by the name, eggs are the star of the show, but be sure to not miss out on other awesome choices like their savory pot roast hash or delectable Bananas Foster pancakes, topped with sauteed bananas, caramel sauce and whipped cream. Learn more about Eggs Up by visiting their website.
Bagel Factory
Maybe you're not craving something sugary or sweet. If that's the case, nothing beats a fresh bagel, and you'll find the best at 21st Avenue North on Kings Highway at Bagel Factory! Whether you like them with cream cheese, lox or maybe loaded up with bacon, eggs and cheese, you're sure to walk out glad you came. Their options spread out from there, also featuring omelettes, breakfast wraps, pancakes and French toast. If you're buying in bulk for your guests that elected to stay behind and sleep in, Bagel Factory offers bakers dozens (13) of their bagels (including poppy seed, everything, cinnamon raisin, blueberry and cheddar, among others) and large serving sizes of all sorts of spreads like cream cheese, lox, chive or strawberry. Take a look at their website for their full menu.
Remember, a long day of fun splashing at the beach requires a full tank of breakfast, and at these great morning eateries you're sure to get your vacation day off to a fantastic start!