Catch the Myrtle Beach Seafood Festival This Fall
Courtney Martin | 15 Aug 2017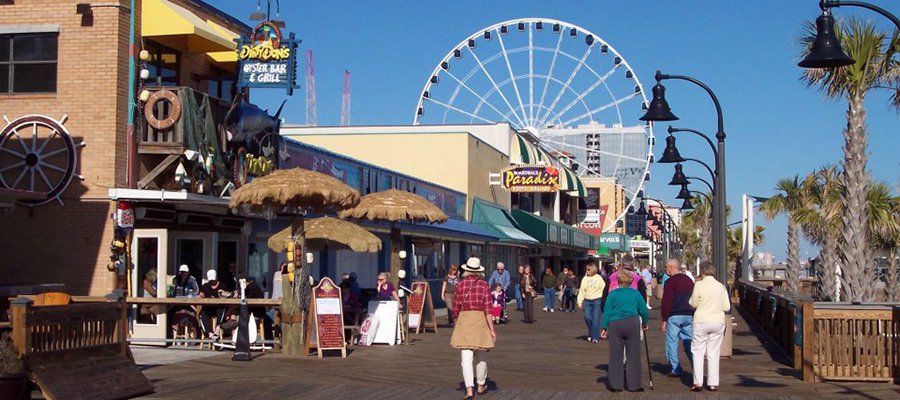 In recent years, the Myrtle Beach downtown area has seen the revitalization and development of many exciting additions and events. The Myrtle Beach Boardwalk, which opened in May 2010, stretches more than a mile along the heart of the coast, from 14th Avenue to the 2nd Avenue Pier, and hosts many new festivals and entertainment events throughout the year. This Fall, on October 6 and 7, the Myrtle Beach Seafood Festival returns for its 2nd year, and you can experience it all in downtown Myrtle Beach on the Boardwalk!
Get ready for two days of food and fun whenever you spend some time at the Myrtle Beach Seafood Festival. It all begins on Friday, October 6, from 6 p.m. to 9 p.m., and continues on Saturday, October 7, from 11 a.m. to 7 p.m. Both days will feature a multitude of local restaurants and vendors, ready to serve up some of the best in South Carolina seafood. The event will be situated near 8th and 9th Avenues North in downtown Myrtle Beach at the Burroughs and Chapin Pavilion Place.
Bring the entire group to this family-friendly event, which offers up hours of fun for everyone. The Festival will include kid-friendly activities, as well as a beer and wine garden, and a corn hole tournament. You won't miss a beat as you browse the local seafood eateries and the selections they offer up to all guests. The event will also include live musical entertainment, so be sure to wear your dancing shoes!
While you're partaking in this new festival, spend some time shopping in the many souvenir and boutique stores scattered along Ocean Boulevard. Take your loose quarters to the seaside arcade and fun plaza found right near the festival scene. Don't forget to snap some priceless photos of the beautiful beach and Atlantic Ocean before you depart. Your next beach vacation will be like no other, whenever you visit the 2nd Annual Myrtle Beach Seafood Festival in Downtown Myrtle Beach on October 6-7, 2017.