Mustang Week Returns to Myrtle Beach This September
Courtney Martin | 28 Jul 2017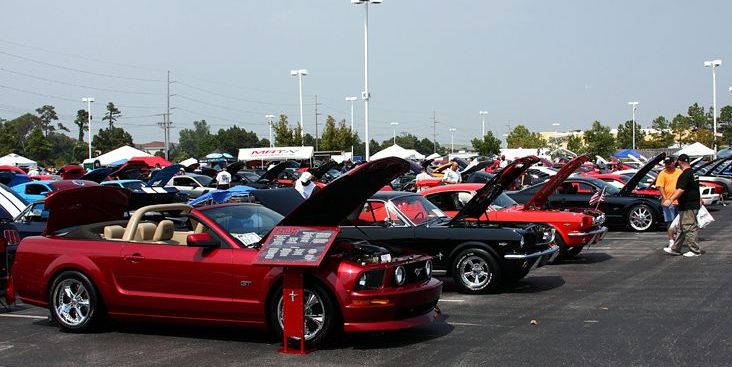 Get ready for hot wheels and revved up engines, as the 2017 Mustang Week festivities get underway in Myrtle Beach from September 4-10.
All of the fun gets started on Tuesday, September 5, at Broadway at the Beach, where participants can gather for the annual Meet'n Greet from 1 pm. to 6 pm. This informal get-together is open to all Ford-powered Mustang and SVT drivers, so stop by and say hello! On the same day, you can visit the Myrtle Beach Speedway from 10 am. To 1 pm., and from 2 pm. to 5 pm. for BFGoodrich Autocross Driving School.
On Wednesday, September 6, make your way back to the Myrtle Beach Speedway and BFGoodrich Track for more fun and excitement. Between 10 am. And 5 pm., enjoy Stifflers Fun Runs and Gateway Classic Autocross, which promises to be a thrilling and fun time for all. Stick around until 6 pm. for the SVTPerformance.com Burn-Out Contest. In 2016, more than 450 cars and 5,000 people took part in these events, which allow participants to push their vehicles to the limit! Guests can also watch from the stands for just $5.
Thursday, September 7, will feature the Mustang Week Test-n-Tune at the North Myrtle Beach Drag Strip. From 9 am. until noon, enjoy spectating the Dyno Challenge, and from 10 am. until 5 pm., visit the Test-n-Tune area. You will love the sights, sounds, and excitement that accompany these thrilling drag races.
Make your way to the Myrtle Beach Convention Center on Friday, September 8, for the 14th Annual Mustang Week Car Show. Check-in is between 8:30 am. and 11 am., and judging is between 11 am. and 4 pm.
Saturday's events include the announcement and presentation of winners and awards at 3 pm., as well as a raffle drawing you'll be sure to want to stick around for! From 10 am. to 6 pm. on Saturday, enjoy taking part or spectating the East Coast's Largest Mustang and SVT Cruise-In at the Myrtle Beach Convention Center.
Whether you're a Mustang enthusiast, or you're just looking for something unique to do during your beach getaway, check out Mustang Week this September for a one-of-a-kind experience in the Myrtle Beach area!