Pirates Voyage
Courtney Martin | 24 Oct 2016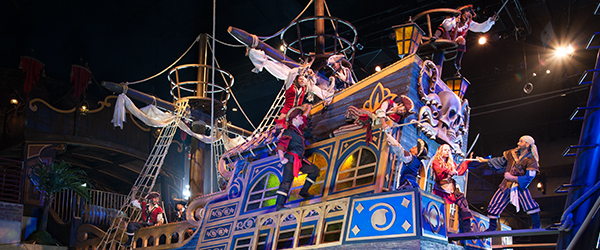 What do Dolly Parton, mermaids, and pirates have in common? You can see them all when you visit the exciting dinner and show attraction Pirates Voyage in Myrtle Beach.
Join Captain Blackbeard and his crew of miscreants for a swash-buckling matinee or evening adventure, where you and your family will be whisked into the Seven Seas. Blackbeard and his quartermaster, Calico Jack, are on a quest to recover lost treasure- whether under the sea, on land, or up in the air!
Before the feature show begins, browse through the Pirate Village gift shop and lounge, where you will enjoy the sights and sounds of the pre-show pirate performers, who tell tales of adventure and fun through song and dance. In Pirates Village, you can also grab a quick snack or drink while you await the big attraction.
The main show features large pirate ships, beautiful mermaids, sea lion hijinks, and high-flying acrobatic feats that will leave you in awe! Cheer on your team, as the Sapphire Crew takes on the Crimson Crew for supremacy in this land of exploits and escapades. Watch as the crews perform gravity-defying acrobatic thrills, as they compete in their quest for victory. Look out for a special "performance" by Dolly Parton herself!
Make sure you come to the show with a pirate-sized appetite as well! The show includes a four course pirate feast, where you and your family will dine on items like Voyager Creamy Vegetable Soup, Buccaneer Bread, Half O' Roasted Cackler (Chicken), Captain BBQ Pork, Cob O' Buttery, Pirate Herb-basted Potato, and Apple O' Me Eye Pie. Water and sodas are also included with bottomless refills! Vegetarian and gluten free meals are also available upon request.
Whether you are a pirate fan, an adventure lover, or just someone looking to unwind after a long day at the beach, Pirates Voyage of Myrtle Beach provides a delicious feast and a spectacular show for all!